Description
PulFil is a central supply filter with stainless steel mesh made entirely of high quality synthetic material suitable for food and drinking water.
It is also ideal for watering waters.
As it is made of high quality materials, it does not leak and effectively protects against stones, rust, sediment, soil and mud.
It has a self-cleaning system, which relieves us of any personal contact with the filter, so we save time, effort and money in relation to the common central delivery filters that require exactly the opposite.
Its cleaning is accomplished by a simple movement of a rotary knob, where special brushes rotate simultaneously and remove the particles from the stainless filtering screen. Then they pass to the discharge valve, where they are then discharged from the filter.
Another important advantage is that it is placed too easily because of its excessively small dimensions.
specifications
? Hourly flow rate 4.5 m? / h
? Input-Output 1 inch or 3/4
? Maximum operating pressure 16 bar
? Maximum temperature 40 C ?
? 89 micron filtering power
? Manometer optional
? Made in Italy
DIMENSIONS:
2 YEARS GUARANTEE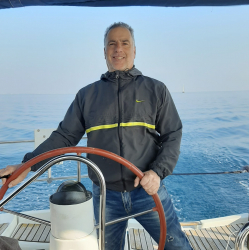 Latest posts by waterfiltersystems
(see all)