Water Filtration Systems in Cyprus by Sandis – WaterFilterNet.com
We are offering a full range of water filtration systems starting from a simple Water Filters, Water Softeners, Reverse Osmosis, Water Coolers (Dispensers) to complex multi-stage water treatment systems for your home or business.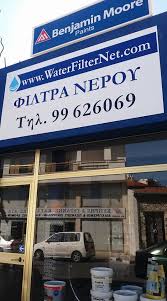 We are located in Cyprus and have been solving water problems for over 20 years. Using our knowledge and experience, we can help our customers in Cyprus to make an informed decision to effectively treat and filter water according to their specific requirements. We will also answer any water questions you may have.
Our water purification systems will clean your tap water from any particles, rust, chlorine, viruses, bacteria, heavy metals, etc. and make your water safe to drink and use.
With more and more problems showing up lately involving our drinking water, we at WanterFilterNet.com have made it our mission to bring you updated news and offer the best water filter systems currently available and help you keep your water safe.
We also provide services including installation, maintenance and repair of water filters, water softeners, reverse osmosis, water coolers and water purifiers all over Cyprus, backed by our commitment to excellence and best customer service. We are committed to provide our customers with quality water treatment products that are innovative, efficient, and reliable, at an exceptional value.
Our qualified technicians have extensive knowledge in the service, repair, installation, and maintenance of many water treatment equipment. The water treatment industry is very fragmented and can be quite confusing. It is not uncommon to see identical products that use the same components, privately labeled, and with different product names. Many times, the pricing of similar water treatment products can vary greatly. In other words, Cyprus area customers don't always get what they pay for! Companies that generally have "proprietary" products can be very expensive to do business with. Moreover, some of them charge a lot for their maintenance and services!
WaterFilterNet.com cuts through the "smoke and mirrors" and provides our Cyprus customers with proven water treatment products that are designed for our specific local water issues.
Many types of water softeners, whole home filtration systems, and water conditioners are not designed to handle the extremely hard water that we encounter in the surrounding Cyprus area. Other products use inferior resins and water filtration medias that oxidize and breakdown often. WaterFilterNet.com uses commercial grade high cross-link resins in all of our water softeners and whole home filtration systems that outperform and outlast our competitors.
WaterFilterNet.com provides free water testing and consultation. We will explain the benefits and solutions in ways that can be easily understood, so that our Cyprus customers can feel confident and comfortable in their decisions.
In case that you would like to order any of our water filters, water softeners, reverse osmosis, water coolers, replacement filters or any other water treatment product from our website, please note that we also provide a free delivery all over Cyprus.
What do Cyprus area customers like about WaterFilterNet.com?
We are a family owned business. We provide personalized service. We are a leader in eco friendly technologies that use less water, salt, and electricity, without compromising performance or value. We provide water treatment solutions without gimmicks or hard sell tactics.
WaterFilterNet.com is your professional supplier and installer for water filters, water softeners, reverse osmosis, water coolers and whole house filtration systems.