Say Yasas to Healthy Living with Tasty Detox Filtered Water Recipes in Cyprus
It's no secret that hydration is the superhero of good health. And when the water is free from villains like chlorine and fluoride, we're talking about superpowers! Whether your mission is to shed a few extra pounds or cleanse your body from toxins, hydration is your trusty sidekick.
Kick-start your day the Cypriot way by downing two glasses of pure filtered water! This will get your metabolism moving faster than a cat after a mouse. Add some tantalizing ingredients to your water, and voila, you've got a concoction bursting with minerals, vitamins, and enzymes.
1. Fruit Fusion: Filtered Water Meets the Orchard
Why should your tastebuds miss out on all the fun? Let lemons, kiwis, grapefruits, apples, and pineapples dive into your water, bringing along their enzymes and antioxidants for a hydration pool party!
2. Apple Cider Vinegar: The Secret Sauce of Filtered Water
Apple cider vinegar is like the DJ of your body's health party, tuning your digestive system and setting the tone for weight loss. It's got acetic acid on the mix, spinning beats of appetite suppression, water retention reduction, and caloric control.
3. Cinnamon Splash in Filtered Water
Who said cinnamon only belongs in grandma's kitchen? It's ready to jump into your detox water, improving insulin secretion, stabilizing blood sugar levels, and setting your glucose metabolism dancing!
Steal Jennifer Aniston's Hydration Secret for a Hollywood Glow
Hollywood's darling, Jennifer Aniston, is more than just a pretty face. She knows the secret to a healthy lifestyle, and now you do too – hydration! She starts her day with a glass of warm filtered water with squeezed lemon. And you know what they say, when life gives you lemons, get hydrated!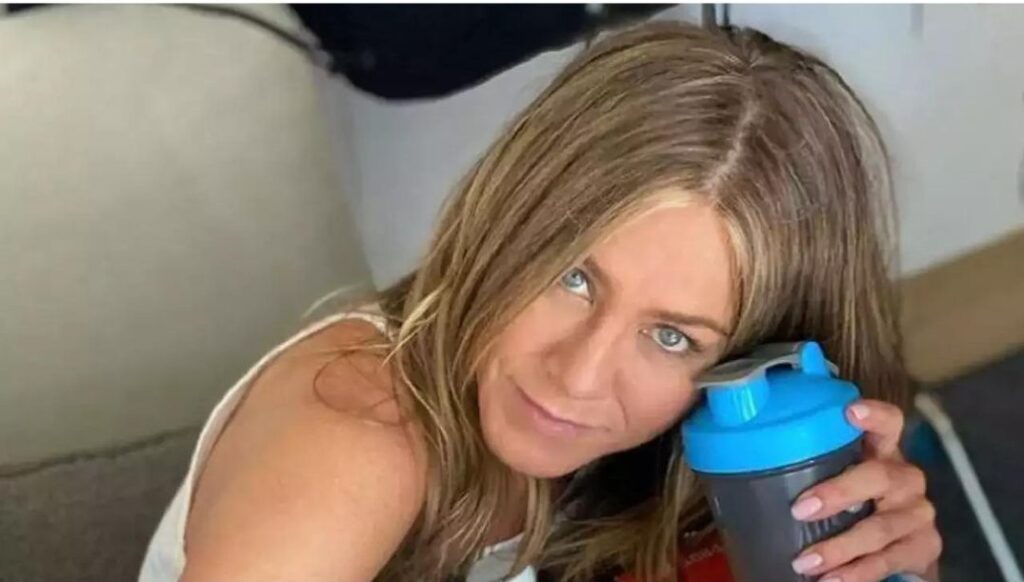 Aniston is the hydration queen, always seen with her 23-ounce bottle of pure filtered water, which she admits plays a big part in her weight loss regime. Now, who wouldn't want a slice of that healthy Hollywood life right here in Cyprus?
For all you Cypriots out there looking to amp up your hydration game, check out these links:
Home Reverse Osmosis System vs. Bottled Water: A Cost Comparison in Cyprus
The Best Reverse Osmosis Water Treatments in Cyprus
4 Reasons Why Cypriots Should Consider Whole House Water Filters
Why are you looking for a home water filter in Cyprus?
And don't miss this Natural Belly Slimming Detox Water Recipe Youtube Video. It's a refreshing island-style toast to your health!
Celebrate Your Health with Delicious Infused Water Combinations
Looking to change up your hydration routine? Why not get creative and try these refreshing infused water combinations? Remember, the longer you leave the ingredients to infuse in the water, the stronger the flavor and nutrient content will be.
4. Lemon-Lime Magic in Filtered Water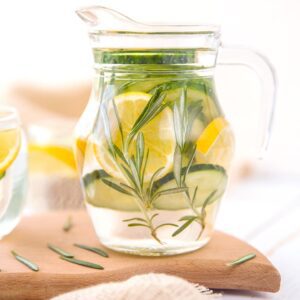 Turn your filtered water into a citrus delight with the simple addition of lemons and limes. This combo not only adds a zesty tang to your drink but also supercharges it with Vitamin C, great for boosting your immune system and keeping your skin glowing like the Mediterranean sun!
5. Strawberry-Mint Freshness
Nothing screams summer in Cyprus more than ripe, juicy strawberries. Add a handful of these to your filtered water along with some fresh mint leaves. This combo is like a Mediterranean holiday in a glass – the sweetness of the strawberries beautifully balanced by the cooling effect of mint.
6. Watermelon-Basil Blast
Imagine biting into a succulent slice of watermelon while lounging on a sun-drenched Cypriot beach. Now, capture that sensation in your water bottle with chunks of watermelon and a sprinkling of basil. It's a hydration experience you'll want to relive over and over again!
7. Ginger-Peach Fusion
Add a spicy kick to your water with some ginger and complement it with the sweet, mellow flavor of peaches. This blend isn't just tasty but also aids digestion, making it a perfect after-meal refresher.
Feel Fabulous with Filtered Water Fitness Tips
Speaking of health, let's not forget the importance of physical fitness. Here are some easy tips to help you stay active, all while enjoying your detox filtered water in Cyprus.
Hydrate Before, During and After Exercise
Your body needs plenty of fluids to keep up with the demands of a workout. Hydrate with a glass of filtered water before your exercise, sip regularly during, and drink up afterward to replenish lost fluids.
Try a Yoga Routine with Hydration Breaks
Add a relaxing yoga routine to your day. Each time you switch from one asana to the next, take a sip of your detox water. This helps keep your body hydrated and your mind focused.
Pick Fun Outdoor Activities
Take your hydration routine outdoors. Go for a hike, a cycle ride, or maybe even a swim in the beautiful Cypriot seas. Just remember to take your bottle of infused water along to stay refreshed and hydrated.
Hydration Habits for a Healthier Lifestyle
Incorporating these hydration habits into your daily routine can make a world of difference in your overall health and wellbeing. Not only will you feel more energetic and alert, but your skin will thank you too with a youthful, radiant glow.
Start Your Day with a Glass of Filtered Water
Make it a habit to drink a glass of warm filtered water every morning. This helps to kick-start your metabolism and prepares your body for the day ahead.
Carry a Bottle of Filtered Water Wherever You Go
Always have a bottle of your favorite infused water by your side. This way, you're more likely to reach for it when you're thirsty instead of resorting to sugary drinks.
Hydrate Before You Feel Thirsty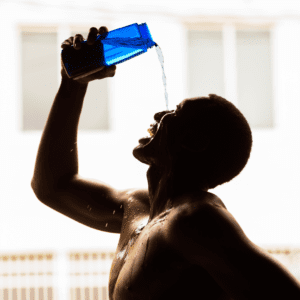 If you're feeling thirsty, it means your body is already starting to dehydrate. So, keep sipping on your infused water throughout the day, even if you don't feel thirsty.
Remember, nothing beats the scorching Cypriot heat like a tall, cool glass of delicious detox filtered water. So, start exploring these combinations and make every sip a celebration of your health! Stay hydrated, Cyprus!
Here are some additional resources to help you get the most out of your hydration journey:
Enjoy your journey to a healthier, happier you with detox filtered water!
Explore Cyprus With Your Refreshing Detox Water!
Who said staying hydrated is boring? Let's add a splash of fun and adventure as we tour some of the most iconic spots in Cyprus, detox water in hand.
Nicosia: Sip and Sightsee
Nicosia, the heartbeat of Cyprus, has much to offer. Known as the last divided capital, Nicosia is a city rich in history and culture. As you explore the winding streets of the old town and visit the Byzantine Museum or the Cyprus Museum, keep your Apple-Cinnamon Delight detox water handy. Not only will it keep you hydrated, but the warm, spicy notes will complement the fascinating history of Nicosia.
Limassol: Detox by the Beach
When you're basking in the sun on the beautiful beaches of Limassol, or strolling down the lively seafront promenade, remember to sip on your Pineapple-Mint Freshness detox water. The tropical vibe of this detox water is the perfect fit for Limassol's sun, sea, and sand. Plus, if you find yourself indulging in the city's renowned wine festival, your detox water will be there to ensure you stay refreshed and hydrated.
Larnaca: A Historic Hydration Journey
Larnaca, home to the famous Church of Saint Lazarus and the intriguing Hala Sultan Tekke, is a city where history comes alive. As you tour the city's ancient ruins or unwind by the beautiful Finikoudes Beach, keep your Kiwi-Lemon Energizer detox water at your side. The citrusy sweet notes will keep you refreshed as you discover Larnaca's rich past and vibrant present.
From the mountains to the beaches and the historical sites in between, every corner of Cyprus offers something special. And what better way to experience it all than with your delicious, nutrient-packed detox water?
Don't forget, staying well-hydrated helps you stay energized and enhances your overall wellbeing, making every moment in Cyprus even more enjoyable.
Discover more about water health and its benefits:
Stay adventurous and keep hydrating, Cyprus!
Paphos Harbour & Castle: Enjoy a Seaside Sip
There's nothing quite like a leisurely stroll along the bustling Paphos Harbour. Savor your detox water while admiring the medieval castle or watching the fishing boats bob in the sea. A tip from a local: the sunset view here is absolutely breathtaking with a glass of Lemon-Lime Magic detox water!
Troodos Mountains: Hydrate at High Altitude
Take your Strawberry-Mint freshness detox water and head up to the refreshing heights of the Troodos Mountains. Whether you're hiking, bird watching, or simply picnicking in the pine forests, remember to stay hydrated with your detox water!
Ayia Napa: Party the Healthy Way
Known for its vibrant nightlife, Ayia Napa knows how to throw a party. But who says you can't party and stay healthy? Dance the night away, and when you need to quench your thirst, take a swig of your Watermelon-Basil Blast detox water. Now, that's partying the Cypriot way!
Fit Filtered Water into Your Cypriot Cuisine
Cypriot cuisine is a tantalizing fusion of Greek and Turkish influences, with a dash of Italian and Middle Eastern flavors. How about enhancing this gastronomic journey with our delicious detox waters?
Seafood & Lemon-Lime Magic Detox Water
Seafood is a staple in Cypriot cuisine. From calamari to sea bass, the freshness of the sea is a delight to the taste buds. Complement your seafood dishes with a zesty Lemon-Lime Magic detox water to enhance those fresh flavors.
Meze & Strawberry-Mint Freshness Detox Water
A traditional meze platter is a parade of flavors, from tangy tzatziki to spicy lountza. To balance these strong flavors, pair your meal with a Strawberry-Mint Freshness detox water. The sweet and cool taste of this detox water will cleanse your palate between dishes, making each bite a new experience.
Halloumi & Watermelon-Basil Blast Detox Water
What's a Cypriot meal without halloumi? This cheese is a Cypriot favorite, whether grilled, fried, or in a salad. Enjoy your halloumi with a Watermelon-Basil Blast detox water. The sweet and herby notes of this detox water pair beautifully with the salty goodness of the cheese.
Remember, there's no better way to enjoy the Cypriot life than with a bottle of refreshing detox water by your side. So, let's raise our glasses high and toast to a healthier lifestyle. Here's to you, Cyprus!
Keep exploring, stay hydrated, and enjoy the zest of life in Cyprus with your detox water!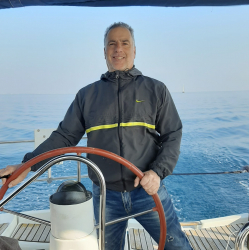 Latest posts by waterfiltersystems
(see all)