Description
Tankless Reverse Osmosis Intelligent System I:Q for 600 GPD (gallons per day)
It is the newest high-performance reverse osmosis water purifier. The model increases the system's ability to produce 600 gallons of purified water per day. So it can provide even large families with fresh, filtered water. It also does so with less water waste; a ratio of only 1.5:1 for treated water and wastewater. The I:Q 600G RO Water Filtration System is a great option if you want to do it all and enjoy easy system maintenance.
The tankless I:Q 600G RO device measures 402 x 152 x 304mm and saves space under your sink, leaving more room for your cleaning supplies and other household products. Can be easily installed in less than 30 minutes. Thanks to the five-in-one composite filter design the annual filter replacement is extremely easy.
Optional, Enhance Your Convenience with Professional Installation: Simplify the process and save time by opting for our professional installation service. For an additional charge, our expert team will handle the setup of the system, allowing you to sit back and enjoy the benefits of your Tankless Reverse Osmosis Water Filtration System without any worries.
Smart RO water purification technology
The device uses a smart reverse osmosis technology, which provides excellent water purification and makes it safe to drink. The water goes through five stages of filtration, and the 600G reverse osmosis membrane will remove all particles as small as 0.0001 microns from the water. No viruses, no bacteria, and no heavy metal ions will get into your glass. In addition, the device is able to absorb residual chlorine. Despite such a high degree of purification, the I:Q 600G RO intelligent device has excellent performance and is able to fill a glass with clean water in just six seconds.
The model has an additional tap through which, you can get water not only for drinking but also for cooking, washing vegetables and fruits, washing dishes, cleaning the house, etc.
5 in 1 filters included in the RO water filtration system: PP cotton + carbon fiber + high-precision PP cotton + reverse osmosis RO membrane + carbon rod filter element.
Which effectively intercepts:
large particles of impurities
absorbs residual chlorine
different colors and odors
increases the filter area, and further filters impurities particles
purifies residual odors in the water, and ensures the taste of water.
Compact and modern design, the installation hidden under the kitchen does not affect the decoration style, saving the kitchen space.
Innovative water-saving technology 1.5:1 low waste water ratio, saving money and environmental protection, no waste.
There is no need to move the machine out of the cabinet to change the core independently, and no after-sales visit is required.
Is tankless RO better?
Comparison of the traditional reverse osmosis with the new tankless system technology:
Never wait for another tank refill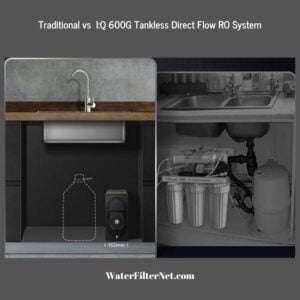 Most traditional reverse osmosis systems have storage tanks with a maximum capacity of two gallons of pure water. Thanks to the new technology this is not an issue with our I:Q 600G RO system. Our direct flow reverse osmosis system doesn't have a water tank. So you never have to wait, until the tank is filled and always have pure water immediately.
No more stale water. Great protection from infections.
When the water is stored in a tank for a long time it may acquire a funny smell and flavor. New microorganisms can sometimes appear in stored purified water. As chlorine has already been removed from the water by the filters and the tank can not provide complete tightness. As the I:Q 600G RO system does not have a tank, the water is free of any odor and provides great protection from infections as you start to consume water immediately after you open the faucet, so never worry about any microorganisms or bacteria stacking in the tank.
Strong water-pressure jet
When you are using reverse osmosis systems with a tank, the pressure of the water jet proportionately falls off, because you consume water from the tank.
As the I:Q 600G RO does not have a water tank, the pressure of the water jet is always the same and strong.
3 times less water waste will save water and money
Water consumption of the traditional reverse osmosis systems with a tank is not so efficient as almost 85% or five-sixths of the water goes to drainage. With the innovative technology of the I:Q 600G RO you will have a very efficient system. As only half or less of the water goes to drainage direct flow reverse. Also, saves up to three times the water more than reverse osmosis systems with a tank saves on every utility bill that you have with this system
Automatically RO membrane flush for top performance
Most of the traditional reverse osmosis systems don't automatically flush the membrane. While the innovative I:Q 600G RO device has auto flush regiments for 18 seconds after each turn-off of the faucet
Electrical safety while changing reverse osmosis filters.
In most reverse osmosis systems you have to mess around with water pipes and electrical wires while charging filters. Our device has all electrical components fully separated from the user-serviceable unit. Therefore, changing filters is convenient and safe.
Quick change reverse osmosis encapsulated filter elements
With most reverse osmosis systems changing filters is not an easy task and requires unscrewing the housings, washing them, changing O rings, etcetera. It usually takes about an hour. While in our system changing the filters and even a membrane is a snap.
Quickly changing encapsulated elements allow a change with 3 movements, for the whole system, or in under 1 minute you get almost all new and clean machine again.
Quiet and Noise-free RO
With ro systems using a tank, you have to wait up to three hours to fulfill the tank and have to hear the noise from the pump during those 3 hours. No more noise with our innovative system, as there is no tank to refill, the pump only works when you open the faucet.
Low electricity consumption
Not only noise from the pump is produced, electricity too is consumed during this long tank refill cycle. The pump works only when you need water, so the system is power efficient and you pay less for electricity.
Space-saving reverse osmosis system
When buying a traditional water purifier, you need to find a place for the tank equal to 70 cubic feet. Using our water purifier system you can save lots of free space under the sink for all of your kitchen essentials.
Works even with low inlet pressure
If you have low water pressure in your house, water systems that you can't fulfill with the tank will be 2 times longer. Our I:Q 600G RO device works with pressure as low as half a bar. Also, our water filter device is very useful on the upper floors, for instance.
Better rejection rate
Most reverse osmosis systems usually purify the water up to 90 to 95%. In our direct flow reverse osmosis system, we use a powerful pump. High pressure leads to even better rejection rates, and the remaining TDS is usually two times lower in our system, meaning two times better purification.
No need to repressure the reverse osmosis tank
In most ro water filter systems, you have to reinflate or repressurize the tank every few months to keep the same level of pressure inside. So you need to buy an air pump and manometer. Because of the innovative tankless device, this is not an issue anymore, this device is hassle-free and will save you lots of time, as you don't need to check the tank's pressure with manometers or repressurize it with an air pump.
a traditional water purifier device can break if the water in your house stops flowing and the water pump still works. Our I:Q 600G RO has automated water pump protection which stops the water pump in zero to one second after the pressure drops.
Idling protection
If you forget to turn off the faucet in reverse osmosis systems, water continues to flow even overnight. In our system, we have idle protection which stops the system automatically after 120 minutes.
High water production, 1 liter in under a minute
The tank in most traditional ro systems with has a very low filling efficiency. It can take about an hour to produce one gallon of pure water. Our I:Q 600G device takes just 4 minutes to produce one gallon of pure water. This is up to 15 times faster compared to reverse osmosis systems using a tank
Larche and long-lasting RO membrane 600gpd
Many reverse osmosis systems with tanks are using tiny membranes capable of producing up to 50 gallons per day of pure water. While in our system we have a large and long-lasting reverse osmosis membrane capable of producing up to 600 gallons per day of clean water, this is 12 times more capable
Genuine Dupont/Dow Filmtec membrane made in USA
Most of those 50 gallons per day membranes are currently made in China. We use genuine Dupont/Dow Filmtec, for our high-quality production membrane, which is a globally recognized water-separation and purification solution. With an unsurpassed reputation for consistent, reliable, and long-lasting performance.
Water saving machine
During this lengthy many hour tanks refill, a lot of water is wasted that goes down the drain. The same amount of pure water is produced in our system within several minutes. Much less wastewater will go down the drain during this much shorter period of time
Les frequent system pre-filter change
Reverse osmosis systems with the tank require frequent prefilter changes. Because they have to purify a lot of water while 5/6 of it is finally wasted. While direct flow reverse osmosis systems are very efficient. Much less water goes through the system and waste, that's why you save on maintenance costs by less frequent prefilter changes.
Compact and lightweight
Reverse osmosis systems with the tank weigh around 14 kilograms, compare to direct flow reverse osmosis systems which weigh is 9.2 kilograms,
Suitable for heavy-duty, commercial use
Traditional Reverse osmosis systems with a tank can't be used in a coffee shop as nobody wants to wait for hours to get pure water. I:Q 600G RO direct flow water purifier allows you to get pure water instantly in real time.
Universal worldwide adapter
Most reverse osmosis systems include an inlet valve of either 3/8 or 1/2 of an inch thread, not both.
You may need to buy an extra adapter. We include both the 3/8 and 1/2 inch user configurable T valve to please all
Get a second line of pure water easily
Most reverse osmosis systems offer one point of setup. We offer a T fitting to help you get a second line of pure water for example for your fridge ice maker.
Other RO water purifiers.
Read More About the Reverse Osmosis water treatment filtration system by clicking here.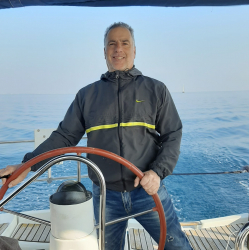 Latest posts by waterfiltersystems
(see all)