Description
Navigating the world of salinity can be as vast as the ocean itself. But hold your sails, there's now a reliable and trusty co-pilot to accompany you on this journey – the exceptional Salinity Refractometer from WaterFilterNet.com, your trusted water filters specialists in Cyprus.
Our Salinity Refractometer is not just a tool, it's your ally, your go-to aid in maintaining the optimal salinity levels in your environment. Crafted with care and precision, it ensures the quality of your marine life, food products, research outcomes, or even the crystal-clear water in your backyard pool.
Remarkable Features to Navigate Any Salinity Ocean
A Friend to Many: This refractometer is a boon to aquarium enthusiasts, research professionals, the food and beverage industry, and even home pool owners in Cyprus. Whoever you are, wherever you are, it's here for your salinity measurements.
Multiple Measures: More than a salinity meter, it's a multifaceted instrument, measuring Brix (0-10%) and density (1.000 to 1.070 g/cm3). Because we love a versatile friend, don't we?
Adaptable and Understanding: With a built-in Automatic Temperature Compensation System that operates from 10℃ to 30℃, this device comprehends and adjusts to your environment, ensuring accurate readings each time.
Sturdy, Reliable, Ready: Built with durable aluminum and featuring a rubberized grip handle, it's designed to be your trusty partner in all salinity-related quests. Its compact design implies it's always ready for an adventure with you.
Just like the WaterFilterNet.com water filters specialists in Cyprus, we're not just selling you a refractometer, we're offering you a partnership, a commitment to quality, and a promise of trust. So why just measure salinity when you can do so much more with our Salinity Refractometer? Dive in and experience the difference today.
A Deeper Dive Into Your Salinity Refractometer
Reliable and Precision-Packed Salinity Refractometer
Experience a blend of precision and efficiency with our ultimate salt water tester. Let's take a closer look at what you're signing up for when you choose our trusted Salinity Refractometer.
Beyond Just Measurements: Precision in Every Drop:
The salinity refractometer is more than just a device, it's an assurance. An assurance that whether you're checking the salinity levels in your marine aquarium, testing the water in your pool, or ensuring the quality of your food and beverages, you're doing it with impeccable accuracy.
Consider the painstaking efforts of John, an aquarium enthusiast from Larnaca. John loves his exotic marine fish collection but struggled with maintaining the precise salinity levels necessary for his fish to thrive. He was always anxious, always uncertain. That was until he discovered our Salinity Refractometer. With our device, John could test his aquarium's salinity levels with ease, knowing that our refractometer was there as his guide. He could see his beloved marine friends thriving, and his aquarium has never looked better!
Robust and Ready: Design & Material:
We understand that a salinity refractometer needs to be as hardy as it is precise. Hence, our refractometer is built from sturdy aluminum, designed to withstand the hustle and bustle of everyday use. Its compact size makes it handy to carry around, and the rubberized grip handle ensures a firm hold, even in the busiest of hands.
Broad Range, Narrow Precision: Measurements and Ranges:
Our refractometer measures the density from 1.0-1.070 with a minimum scale of 0.001. It also measures the concentration from 0-100‰ with a minimum scale of 1‰. Such precision ensures you never miss a detail, whether it's for your scientific research, industrial use, or even your saltwater aquarium.
Your Adaptive Companion: Automatic Temperature Compensation (ATC)
Ever wished for a device that could adapt itself to changing temperatures? Well, we heard you! Our refractometer comes with an in-built ATC that operates from 10℃ to 30℃. This means no matter what the surrounding temperature is, your readings will always be accurate and reliable.
User-Friendly & Easy to Use:
Our refractometer is designed to be user-friendly. Whether you're a professional in the food industry, a pool owner, or a marine life enthusiast, you'll find our refractometer easy to use. Simply place a few drops on the testing prism, cover, look, and read the result! It's as easy as 1, 2, 3, making it the best refractometer for reef tanks, pools, and so much more.
A Touch of Humor: Enjoy Your Journey:
Remember, a good sense of humor can go a long way in making a product seem appealing, just like how it feels when you finally find the perfect salinity levels for your aquarium. After all, what's the point of being a marine life enthusiast if you can't enjoy the highs and lows of the journey?
Embark on a Voyage with Our Salinity Refractometer
So, get ready to dive into the world of perfect salinity measurements with our trusted Salinity Refractometer. It's not just a purchase; it's an investment into a world of accuracy, efficiency, and peace of mind. You're just a click away from this fantastic voyage. Are you ready to set sail?
A Bit More About Your Trusty Salinity Refractometer
"A journey of a thousand miles begins with a single step." – Lao Tzu
And, in your case, that first step is choosing our trusted Salinity Refractometer. If you're an ardent marine enthusiast like Anna from Paphos, you know the importance of maintaining the perfect salinity levels for your marine friends to thrive.
Anna, a dedicated marine researcher, struggled with her previous salinity meters until she stumbled upon our handheld salinity refractometer. Our refractometer's versatility and precision dramatically improved her research outcomes and marine life health. Anna now enjoys her research more than ever, all thanks to our trustworthy refractometer. Just like Anna, you too can embark on a journey towards precision and efficiency with our salinity refractometer!
A Treasure Chest of Tools: Your Complete Package:
Not just the refractometer, we believe in offering a complete package. Our kit includes:
1 x Refractometer
1 x Pipette
1 x Instruction Manual
1 x Mini Screw Driver
1 x Cleaning Cloth
1 x Retail Box
All of this comes packed in a compact box measuring 22x11x6 cm with a gross weight of 0.264 kg. This handheld salinity refractometer kit is everything you need for your precision measurements, whether it's for your reef tank, pool, or research lab.
Precision Mastered: Measurement Accuracy:
The key to our refractometer's superiority lies in its high accuracy. Be it the Brix Range of 0-10%, the Salinity Range of 0-100 ppt, or the Density Range of 1.000 to 1.070 g/cm3, our refractometer ensures a margin of error so small, it's almost negligible. Because, in your quest for perfection, every little detail counts.
Peace of Mind Guaranteed: CE Certified:
Your safety is our top priority. That's why our salinity refractometer is CE certified, ensuring that it meets all the necessary safety and health requirements. "CE" mark, is a declaration that it complies with essential health and safety standards of the European Union. Rest assured, your safety is our utmost priority.
Your Navigator in the Sea of Options:
Just like a ship in the vast ocean, you too might be lost in the sea of options available. But fret not! Our Salinity Refractometer, your ultimate salt water tester, is here to guide you towards your desired destination. It's not just about measuring salinity, it's about improving your outcomes, be it for your marine life, food products, or even your leisure pool.
To put it simply, our Salinity Refractometer offers:
An accurate salinity, Brix, and density measurement tool
A robust and compact design with easy handling
An in-built Automatic Temperature Compensation System
An all-in-one kit for your convenience
A promise of quality, precision, and reliability
Ready for an Oceanic Adventure?
So, come aboard and set sail with our trusted Salinity Refractometer. We promise it will be a voyage like no other!
---
Note: Please ensure to maintain the calibration of your refractometer regularly for optimal results. Detailed instructions are provided in the instruction manual.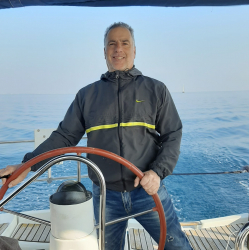 Latest posts by waterfiltersystems
(see all)