Description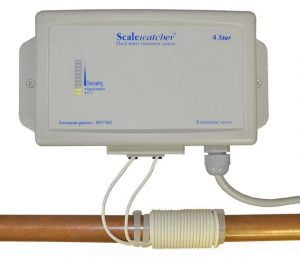 The Scalewatcher 4 Star removes scale build up in hot water heaters, saving energy costs. Gives soft water feel without salt or cartridges to replace. Works on all types of pipes (PVC, Pex, Copper, galvanized, flex pipe, rubber hose, etc.).
Application: Hard Water Treatment Unit Residential use. Villa?s, large water users and swimming pools.
Bar graph indicator reading: The Scalewatcher? 4 Star is fitted with a bar graph indicator.
It can be interpreted as follows:
Bottom segment indicates 12 V DC internal supply. Second segment (from bottom) indicates signal present at output pins.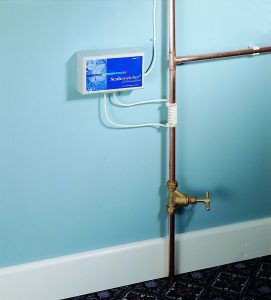 Top segments flash to indicate that the signal cable is connected and correct modulated signal being generated. Technical specifications of the 4 Star: Supply voltage: 110 ? 240 VAC + 10 %, 50/60 Hz Energy consumption Less than 8 Watt/hour Application Voltage 12 VDC Coil cable One core 1 mm2/White Maximum Coil Temperature 80 oC Capable of driving 2 coils double layer Enclosure material Polysterol Grey Maximum enclosure temperature +60 oC Minimum enclosure temperature -10 oC Protection rate IP54, indoor use Weight 690 Gram
Dimension (whd) 227 x 108 x 63 mm3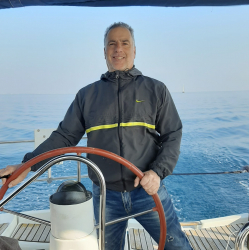 Latest posts by waterfiltersystems
(see all)