Description
Discover the Stylish Black Kitchen Water Tap – 3 Way Mixer for your Kitchen Sink
Beautiful modern black design gives your kitchen a stylish makeover. Perfect for easy pot filling, as the kitchen mixer has 360 degree rotation nozzle making it more convenient to cook. The efficiant splash-free aerator provides economical water consumption with soft water flow, so you can wash your fruts and vegetables without sacrificing water pressure.
Deck mount, easy to install with a single hole. All mounting hardware and hot,cold and drinking water waterlines are included. However, we can install it for you if you prefer so.
Modern Design with Elegant Black Finish
Experience the allure of our black kitchen water tap, designed to elevate the aesthetics of your kitchen. The sleek and modern black finish adds a touch of sophistication to any countertop, making it a statement piece that enhances the overall style of your kitchen.
Space-Saving 3-Way Functionality
Maximize your kitchen space with the 3-way functionality of our water mixer tap. This innovative design combines hot, cold, and drinking water functions in one compact fixture, eliminating the need for additional taps or cluttered countertops. Enjoy the convenience of having all your water needs met in a single, streamlined tap.
Effortless 360 Degree Rotation
The smooth 360-degree rotating feature of our kitchen tap provides enhanced flexibility and convenience for your daily tasks. Easily fill pots, pans, and containers from any angle, making cooking and cleaning a breeze. The freedom to move the nozzle effortlessly allows for a seamless kitchen experience.
Perfect for Pot Filling
Say goodbye to the hassle of filling large pots with our 3-way mixer tap. The generous height and easy maneuverability make it the ideal choice for efficient pot filling. Enjoy the convenience of swiftly filling up your cooking vessels without any splashes or spills.
Free Delivery all over Cyprus with Pay on Delivery Option
We believe in providing exceptional service to our customers. That's why we offer free delivery on the 3 Way Mixer for Kitchen Sink across Cyprus. Plus, with our convenient pay on delivery option, you can shop with confidence and have your new tap delivered right to your doorstep hassle-free.
Product Highlights:
Modern and elegant black finish
Space-saving 3-way functionality
Smooth 360-degree rotation
Perfect for pot filling
Free delivery all over Cyprus with pay on delivery option
What is included in the box:
1. Kitchen tap.
2. O-ring.
3. Installation adjustment.
4. Rubber seal
5. Metal seal.
6. Fixing nut.
7. Non-slip base
8. 3 x hose line
9. Connection.
Enjoy the latest technology in kitchen faucets.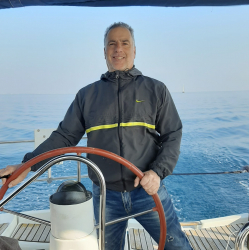 Latest posts by waterfiltersystems
(see all)