Description
Our Alcohol Refractometer is more than just a tool; it's a game-changer for distillers and liqueur manufacturers. This specialized device is meticulously crafted to accurately ascertain the alcohol content in distillates devoid of sugar. It's an essential instrument for those who demand the utmost accuracy in their alcohol measurements, ensuring the quality and consistency of your alcoholic beverages.
Key Features
Precision Measurement: The alcohol meter incorporated in this refractometer operates within an impressive range of 0~80% (VOL – alcohol volume percent), ensuring precise and reliable measurements every time with a reading resolution of 1%.
Versatile Use: This refractometer is specifically engineered to measure a wide array of distilled beverages. Whether you're dealing with whiskey, brandy, fruit brandy, slivovitz, vodka, gin, tequila, or other spirits, this refractometer has you covered.
Wide Applications: It's a valuable tool for those in scientific research, food production, and alcohol retail businesses. This versatile instrument can adapt to a multitude of environments and uses.
Built-in ATC: The refractometer comes equipped with a built-in Automatic Temperature Compensation System (ATC). This advanced feature allows the refractometer to function efficiently within a temperature range of 10~30°C, ensuring accurate readings regardless of the ambient temperature.
Ease of Use: To use it, simply place a few drops of the liquid on the refractometer's optical part, cover the prism, look through the eyepiece against a light source, and read the result value on the scale. It's a straightforward process that requires minimal training.
Quality Construction: The refractometer features a streamlined shape and an interior built with high-quality optical glass lenses. The wide cover plate ensures a perfect alignment with the lens. The upgraded lens offers a clearer horizon, making readings easier and more accurate.
Energy-Efficient and Environmentally Friendly
Our Alcohol Refractometer is not only a high-precision tool but also an energy-efficient and environmentally friendly device. It requires no power source to operate, making it a sustainable choice for your alcohol testing needs.
Alcohol Refractometer: Brief Operational Instructions of the Alcohol Measurement Tool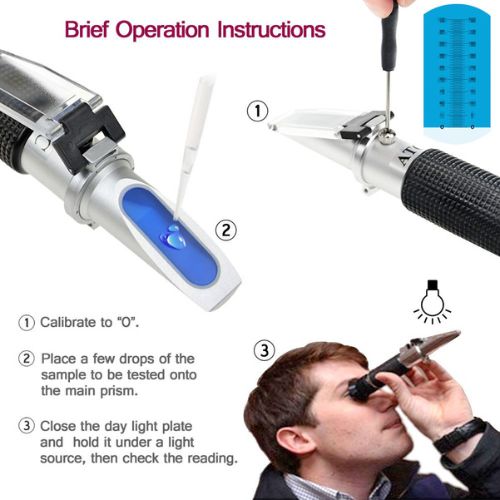 Technical Specifications
Measurement Accuracy: 0-80%, ±1%
Min. Div.: 1%
Brix Range: 0-80% liquor refractometer, 0-80%
Brix Min. Div.: ±1%
Measurement Range: ±1%
Automatic Temperature Compensation: 10~30°C
Product name: Alcohol Refractometer
Material: Metal + Plastic
Reference temperature: 20°C
Product Size: 19.74cm (LW)
Product Weight: 257g
Where to Use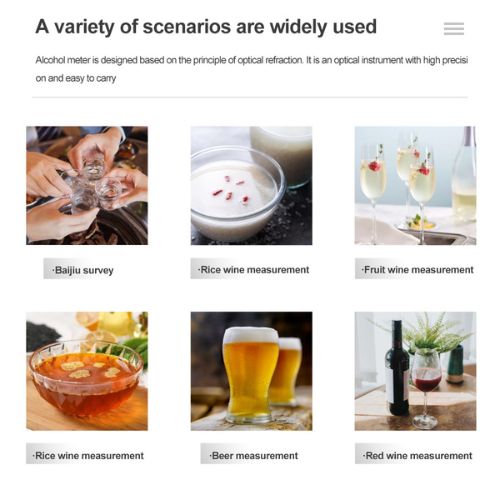 This Alcohol Refractometer is perfect for various settings, including:
Distilleries: Get precise measurements of the alcohol content in your spirits.
Breweries: Achieve the desired alcohol content in your beers.
Home Brewing: For hobbyists who want to ensure the quality of their homemade alcoholic beverages.
Wineries: Ensure the perfect balance of flavors in your wines.
Liqueur Makers: To ensure the quality and consistency of liqueurs.
Food Production: For measuring alcohol content in food products.
Scientific Research: For accurate and reliable alcohol measurements in research settings.
Alcohol Retail: To provide customers with accurate alcohol content information.
Quality Control Laboratories: Ensure the quality and safety of alcoholic beverages.
Why Choose Our Alcohol Refractometer
Choosing our Alcohol Refractometer is not just about measuring alcohol content; it's about ensuring the quality and consistency of your alcoholic beverages. It's about making your distillation process more efficient and your products more reliable. It's about investing in a tool that offers precision, versatility, and ease of use.
High-Quality Construction: Made with durable metal and plastic materials, this refractometer is built to last.
Certified Accuracy: Trust in the precision of our refractometer, which offers a measurement accuracy of 0-80%, ±1%.
Easy Maintenance: With its simple design and minimal parts, our refractometer is easy to clean and maintain.
Cost-Effective: Enjoy high-quality alcohol testing at an affordable price.
The package includes:
1 x Refractometer;
1 x pipette;
1 x instruction manual;
1 x mini screwdriver;
1 x cleaning cloth;
1 x box case;
How to use a refractometer to measure alcohol content
Using a refractometer to measure alcohol content is a fairly straightforward process. Here's a step-by-step guide:
Clean the Refractometer: Before you begin, make sure the refractometer is clean. You can do this by wiping the prism (the glass piece where you place the liquid) with a soft, lint-free cloth.
Calibrate the Refractometer: Most refractometers need to be calibrated with distilled water before use. To do this, place a few drops of distilled water on the prism, close the cover plate to spread the water across the prism, then look through the eyepiece and adjust the calibration screw until the reading is at zero.
Measure the Original Gravity: Before fermentation, take a sample of your wort (unfermented beer) or must (unfermented wine) and place a few drops on the prism. Close the cover plate to spread the liquid across the prism. Look through the eyepiece and take note of the reading. This is your original gravity (OG), which represents the amount of sugar in the liquid before fermentation.
Measure the Final Gravity: After fermentation is complete, take another sample and repeat the process. This reading is your final gravity (FG), which represents the amount of sugar left in the liquid after fermentation.
Calculate the Alcohol Content: The difference between the original gravity and the final gravity represents the amount of sugar that has been converted into alcohol. You can use this difference to calculate the alcohol content. The formula is: Alcohol by Volume (ABV) = (OG – FG) x 131.25.
Please note that this method only provides an estimate of the alcohol content. For more accurate results, a laboratory analysis may be required. Also, refractometers are more accurate when used with clear liquids, as suspended particles can interfere with the light path and affect the readings.
Order Now
Don't miss out on this essential tool for accurate alcohol measurement. Order our Alcohol Refractometer now and take your distillation process to the next level!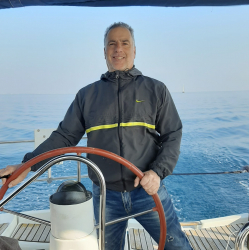 Latest posts by waterfiltersystems
(see all)