Description
SodaStream – Cost-effective, convenient, and fast.
with SodaStream you get more refreshment, less bottle waste, cheaper drinks, and less carrying
Turn your tap water into sparkling water in seconds – simply fill the bottle with water and fizz
SodaStream is a famous brand for home carbonation systems that allow you to make your own carbonated drinks at home. You will no longer have to purchase pre-carbonated drinks from the store, which can be expensive and less convenient. Instead, make your own drinks using our SodaStream system and a small CO2 canister. This can save you a significant amount of money in the long run. Because of this SodaStream systems have become increasingly popular recently.
SodaStream -Environment friendly
Another benefit of SodaStream is that it is environmentally friendly. Traditional carbonated drinks are often packaged in cans or plastic bottles, which are extremely harmful to the environment. However, with SodaStream, you can make your own drinks at home, using a reusable PET bottle, which eliminates plastic and cans. So less waste goes to landfills, which helps the environment. Additionally, the CO2 cylinders used in SodaStream systems are recyclable, which further reduces the environmental impact. Reusing SodaStream carbonating bottles can save you up to 2000 bottles and cans waste per year.
SodaStream – Variety of flavors and Health benefits
SodaStream is a convenient option for those who enjoy carbonated drinks. With traditional carbonated drinks, users have to purchase the drinks, bring them home, and then chill them before they can be consumed. However, with SodaStream, you can make your own drinks at home and enjoy them immediately. This means that you will no longer have to worry about running out of carbonated drinks or having to purchase them from the store. Additionally, the SodaStream system is easy to use and clean.
If you don't like drinking regular soda, consider that there are endless flavors you can use with your soda water. All shops in Cyprus offer many ready-made syrups, starting with the well-known lemonade, orange, grapefruit, pomegranate, vimto, sour cherry, etc., with or without sugar.
SodaStream is also a great option for those who are health-conscious. Traditional carbonated drinks often contain a lot of sugar and artificial ingredients, which are unhealthy. However, with SodaStream, you can make your own drinks at home using natural ingredients. Here are some ideas for making your own SodaStream drinks with natural ingredients – 5 Easy Homemade Sodastream Recipes.
If you are on a diet, keto, or you have signs of diabetes you can use instant drinks available in powder form used to flavor water available in our online store. These drinks are low in calories and have no added sugar. These advanced sugar-free hydration drinks are great alternatives to the classic sugary lemonade without adding unnecessary calories.
Also, SodaStream offers a wide variety of flavors to choose from. The brand offers a range of syrups and flavors, like cola, lemon-lime, ginger-ale, orange, and many more. This means that you can make your own drinks with the flavors you prefer, rather than being limited to the flavors that are available at the store.
Buy your SodaStram device in Cyprus, and benefit from our Free Delivery and Cash on Delivery Payment option.
Our SodaStream Kit Comes with 60L CO2 gas cylinder and a 1L carbonating bottle
Keep in mind, that the number of liters carbonated per cylinder depends on the customization of your soda water and drinks. You may use the machine carbonating button anywhere from 1 to 5 presses in order to achieve the fizziness you desire. Obviously, someone who likes lightly carbonated beverages will get many more liters out of a cylinder as compared to someone who wants a very fizzy drink.
SodaStream Step by Step using Guide:
Step 1 – Press here and unscrew the bottle.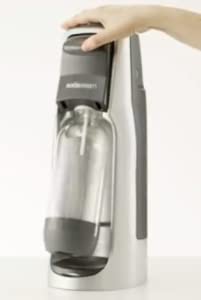 Step 2 – (Only on the first usage or after а cylinder refill) Open the back, insert and screw in the Sodastream Co2 gas cylinder.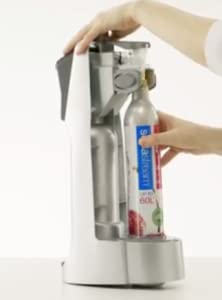 Step 3 – Fill the Sodastream bottle with water and screw it in.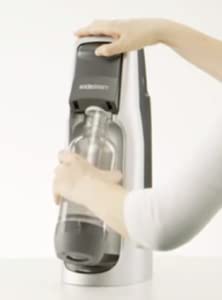 Step 4 – Press Sodastream button to fizz.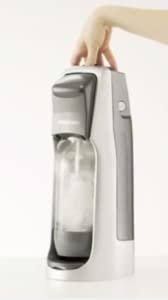 Video of How to make your own sparkling water using our soda maker:

Link to the Video on Youtube here

SodaStream Video

Link to the Video on Youtube here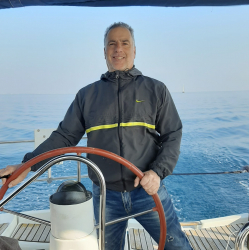 Latest posts by waterfiltersystems
(see all)